Three of our apprentices were recognised at a national awards event this week, for their exemplary attitudes, hard work, and achievements.
Amber Gibbs, who works at EY in Manchester, Raisa Ahmed, who is employed by the Cooperative Bank in Manchester, and Rahil Mahmood, who works for Rolls-Royce in Derby (though is part of LTSB's Birmingham cohort) formed three of the five shortlisted candidates for PQ Magazine's Apprentice of the Year award.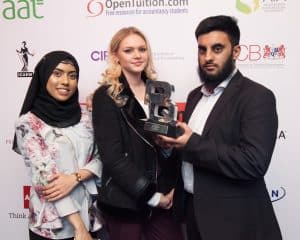 Amber and Raisa are part of our Manchester City (City in the Community) cohort, while Rahil is part of the Aston Villa Foundation cohort, and all three have studied their AAT qualifications with Kaplan Financial.  The apprentices travelled to London for the awards ceremony, and supported each other – everyone would be happy as long as one of the LTSB apprentices took home the award!
After an anxious wait, the category of Apprentice of the Year was announced.  And the winner was…  Rahil Mahmood.
Rahil is a naturally modest and down-to-earth young man, and he was quick to praise his fellow LTSB apprentices.  He said: "I'm honoured to be named PQ Magazine's Apprentice of the Year.  I'm grateful to everyone at Rolls-Royce for enabling me to show what I can do, and to LTSB for preparing me for my apprenticeship with such a great business, and supporting me and the other apprentices.  I'd like to congratulate my fellow LTSB apprentices Amber and Raisa for reaching the shortlist, and knowing how hard they have worked, it can't have been easy for the judges to have selected a winner.  I'd encourage other young people interested in accountancy to join LTSB because they will help you secure a great career."
Rahil's manager at Rolls-Royce, Antony Marshall, attended the event to show his support.  Antony added: "Rahil has been a great addition to the team.  At times, he's had to pick up extra work, and learn skills faster than usual, but he's never once complained.  Rahil is such a modest guy so it's really nice that his hard work has been recognised with a national award, and it's definitely deserved!"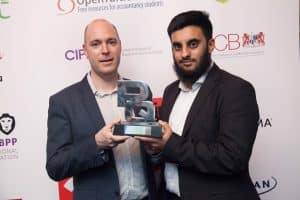 At LTSB, we get to know all of the young people we work with very well, and we would have found it extremely difficult to separate the shortlisted apprentices.  They are outstanding young leaders, and representative of their cohorts.  And they are already mentoring young people from the new LTSB intake, as our current candidates meet prospective employers, undertake interviews, and commence their own apprenticeships.
Reflecting on the success of the young women from Manchester, Chris Oliver, cohort manager for North West England said: "Amber admitted to being nervous to start her apprenticeship with as big a company as EY, but also had good confidence in her own abilities.  Once settled, Amber has made a huge impression with the team at EY, and has a real drive for producing excellent work.  She is on course to gain a Distinction in her AAT Level 3 accountancy qualification with Kaplan Financial, which will be a magnificent achievement.  She relishes being a mentor and leads by example.
"Raisa, along with her twin sister Anisa, was given a huge opportunity with the Cooperative Bank.  Raisa has shown, time and time again, how much knowledge she has, as well as how she has developed as a confident young professional through our LTSB programme and the training with Kaplan Financial.  Raisa loves to go the extra mile, whether it's for her employer, her training provider, or our own programme at LTSB.  She is always keen to speak at LTSB events and along with her sister, is an ambassador for our programme within the Greater Manchester region."
Congratulations to all three LTSB apprentices!
If you are an employer seeking an apprentice accountant, maybe you could find next year's Apprentice of the Year through LTSB!  Please contact us and we'll be happy to help make it happen.