A young Birmingham apprentice has been nominated for the Accountancy Apprentice of The Year at the prestigious PQ Magazine awards.
Rahil Mahmood, 19, from Bordesley Green, has fought off stiff competition across the UK to be shortlisted in the top five for the award – alongside two other apprentices from Leadership Through Sport & Business – the awards ceremony will be held on Tuesday 20th February.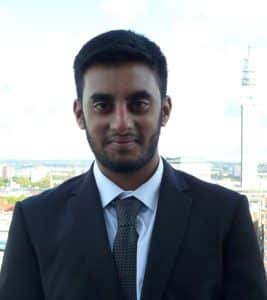 Rahil, who is currently doing an apprenticeship with Rolls Royce, said: "I was pleasantly surprised to find out that I had been shortlisted, as I wasn't expecting it at all. I'm not sure if I'll win but I'm just really happy to have been put forward.
"This has been my first job post-education and I've learnt so much about the working world. I've had to step up and take on a lot of responsibilities as a few people in my team have moved on but this gave me a great opportunity to shine."
LTSB is a unique programme that works with bright young people from disadvantaged backgrounds to prepare and support them in accountancy apprenticeships with top financial firms across the UK. Intensive training with blue-chip companies and elite football foundations, such as the Aston Villa Foundation, develops young people personally and professionally, and better prepares them for the business world.
Rahil added: "I didn't go to the best school and I only received 6 GCSE's. I went onto 6th form for a short time but I wasn't really sure if I wanted to go to university – I knew I wanted a career in finance but there wasn't a clear path for me going down the traditional education route.  
"For me LTSB was a much better alternative to university. The apprenticeship programme gives you real life working experience – I'll be ahead of university students when they finish and I won't have tens and thousands of pounds worth of debt. Also the time scale is a lot quicker than university – within four months you're ready to start work, you have an AAT level 2 and your level 3 by the end of the year.
"Without LTSB I wouldn't be in the position I'm in – they got me an interview with Rolls Royce which no other scheme could have done. The connections they have are incredible and they really helped me take advantage of this by getting me through the door."
James Hinton, regional manager from LTSB was full of praise for Rahil, he said: "I personally nominated Rahil because he enthusiastically embraced the opportunity to work for a leading firm, and has consistently shown determination and dedication despite having to commute from Birmingham to Derby.
"He has received glowing praise from his line manager for his willingness to step up and go the extra mile.  In particular, he welcomed the opportunity to take on work beyond the initial scope of his role in order to support his team during a period of staff changes and reorganisation.
"Everyone who has met Rahil during his apprenticeship journey agrees he is an excellent example of a young leader seizing an opportunity and thriving in a leading business."
LTSB has been running for over 6 years, working with over 60 employers, such as Santander, EY, Deloitte, Barclays, all of whom highly recommend taking on LTSB students as apprentices.
The programme solves a huge headache for employers, as diverse talent is already sourced and trained before their ready to start work.
To become an employer for one of LTSB's apprentices please contact us.