Accounting apprentices, Damilare Oladunni and Arthi Mahinda, were selected by the Association of Accounting Technicians (AAT) to visit the prestigious House of Lords. The two LTSB representatives shared their experiences of becoming apprentices with members of the Economic Affairs Committee including Baroness Harding and Lord Turnbull.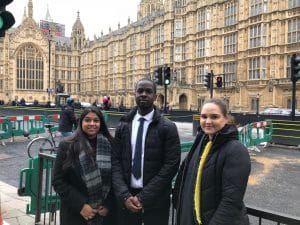 The committee was especially keen to learn about the careers advice the apprentices received and why they chose this route rather than go to university.
Arthi, who joined the LTSB programme in 2016, recently accepted a permanent role at Mayer Brown having successfully completed her apprenticeship there.
"I felt the meeting was important to inform the Economic Affairs Committee why I chose to do an apprenticeship instead of going to university.
"It's been a fantastic experience which I am proud to share – being offered a permanent job goes to show how successful it's been! I definitely wouldn't be at this stage if I had gone to university".
Dami, who has started his placement with recruitment specialists Hays UK, was passionate about the pros of doing an apprenticeship too.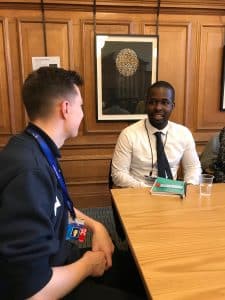 "I explained to them how I am currently enjoying and thriving in my current apprenticeship at Hays, and how I have grown in character –  none of which would have been possible if it was not for the support and guidance of LTSB!"
"It was a fantastic experience as it really made me feel like my voice stood for something and was being heard."
Baroness Harding, former Chief Executive of TalkTalk and a current Non-Executive Director at the Bank of England said she was "blown away" by how "confident, thoughtful and insightful" the AAT apprentices had been adding, "I wish all our Committee witnesses were this good!"
Lord Turnbull who was Private Secretary to Mrs Thatcher before becoming the Permanent Secretary to various Government departments (including the Treasury) said that the AAT apprentices had been, "extremely impressive" and that he was "genuinely inspired by their contributions."
Thank you to AAT for this incredible opportunity, and well done to Arthi and Dami for being advocates for apprentices.
For more information on what was discussed, see https://www.aatcomment.org.uk/aat-apprentices-impress-house-of-lords-committee/
If you are an employer seeking an apprentice accountant, maybe you could find next year's Apprentice of the Year through LTSB!  Please contact us and we'll be happy to help make it happen