Instructors at Lee Valley White Water Centre put on an incredible day of adventure sport for 11 participants who've recently stood out for their commitment, attitude and hard work on the programme.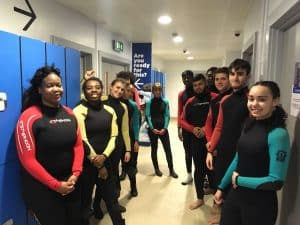 Easing the group into the day was a canoeing session, which saw at least half of us fall/capsize/be pushed into the lake (the temperature of which hovered around 11C)! Braced for the chilly temperatures, we were then split into groups for the next two activities: Hydrospeeding and Rafting.
With dry-ish wetsuits, helmets and buoyancy aids on, spirits were high. The 11 students were all from different cohorts and had only met a few times before, but everybody pitched in to encourage and support each other to throw themselves into the white-water rapids for a 'swim test' (translated as a test to throw yourself into the rapids and then swim your way back out again without panicking).
These sports are definitely not for the faint hearted, but even those who were not keen swimmers had a go, and there were instructors lining the banks with throw lines to save us if anything went wrong.
Sharing the course with Team GB kayaking hopefuls, Team LTSB also powered through the water in our rafts, cheering each other on and both impressing and amusing the bystanders who watched us fall in a number of times!
"It was a very enjoyable day," said West Ham participant, Joe. "I haven't done anything like that I'd love to do it again. It was also amazing to spend the day getting to know more people and be able to be ourselves and have a break from everything serious."
This experience was adrenaline-filled for everybody, and for some it required a lot of grit to conquer their fears. Tian, from the CONEL cohort, said "I realised I had bigger fears than I thought but managed to overcome them with a LOT of supportive help from everybody"
Maia from Chelsea's cohort, who turned out to be the keenest member of the group, said "we can't believe how much we enjoyed today! Not a shock to say we aren't the most active people in the group but genuinely worth coming out for!"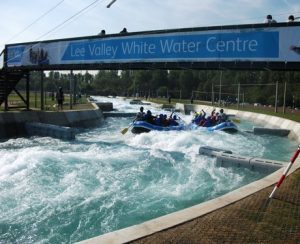 The day was funded by CAF to support the young people and give them a welcome break from the studying and interview preparation that they are working so hard on at the moment.
LTSB has been running for over 6 years, working with over 60 employers, such as Santander, EY, Deloitte, Barclays, all of whom highly recommend taking on LTSB students as apprentices.
The programme solves a huge headache for employers, as diverse talent is already sourced and trained before their ready to start work.
To become an employer for one of LTSB's apprentices please contact us.