Top football agency Unique Sports Management (USM) welcomed a group of young people to their HQ in Kings Langley to launch a partnership between themselves and Leadership Through Sport & Business.
A star-studded line-up was there to help make the event a success, including ex-Chelsea star Jimmy Floyd Hasselbaink and Swansea City midfielder, Wayne Routledge. Leading the programme for the day were USM director, Barry Whelan, and Football Intermediary, Ian Ryder.
USM kicked off the event the right way, with enough Nando's to feed an army, which was the ideal fuel for the business challenge which followed.
Split into four groups, young people from across our Birmingham and London cohorts were given a case study task which put their critical thinking skills to the test. They had to look at details of a player who was up for transfer between clubs and consider all the necessary elements to create a successful deal.
The first session was spent in Q&A sessions with experts including Wayne Routledge giving the player's perspective, Jimmy Floyd Hasselbaink from the manager's perspective, and USM's Barry Whelan, Jess Gull and Lauren Reilly advising on the agent's and player care's point of view.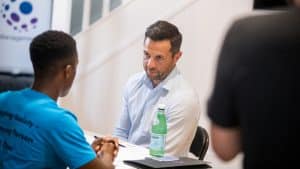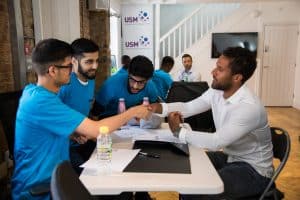 The groups then had ten short minutes to collate their findings and present back to a full room. All four groups rose to the challenge and confidently covered a range of insightful points; so impressed were the judges that everyone was rewarded with signed Chelsea and Swansea shirts!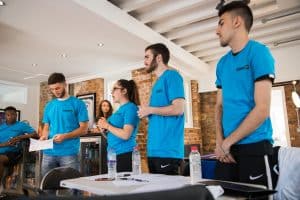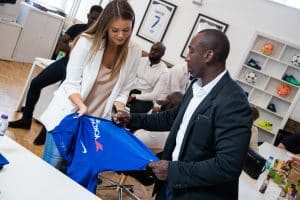 A jubilant Barry Whelan said: "Today has been amazing, this has been a real success and we hope to do more work together in the future. It's USM's social responsibility to give something back to society, and we're proud to be associated with LTSB."
Will Moore from KBA PR agency, who introduced USM to LTSB, added, "The interaction between the LTSB attendees and the USM representatives was fantastic – the young people's attitudes and approach to the task was outstanding, and it was clear that the work LTSB has been doing with them was more than apparent from their confident demeanours."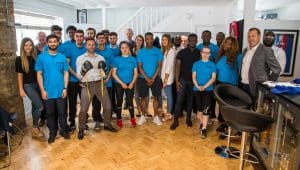 On the 14th July, Barry will be competing in a gruelling white-collar boxing match, all in aid of LTSB, of which he hopes to raise an incredible £5000 for the charity! He said: "I am raising money for a charity that gives the underprivileged a real chance of fulfilling their dreams. Over the last 6 or 7 years, I've always said I would have a go at boxing so here I am, competing in the professional surroundings of a boxing event. This is a massive achievement for me personally and I want to complete it with a huge amount of pride, knowing I have also helped a fantastic charity in the process."
LTSB thoroughly prepares and supports their young people throughout the whole scheme, offering intensive training with blue-chip companies and elite football foundations, which helps the young people develop personally and professionally, better preparing them for the business world.
You can support Whelan in his fundraising by visiting his just giving pagehttps://www.justgiving.com/fundraising/ltsb-boxing