The Lord Lieutenant Kenneth Olisa captivated the LTSB audience last Tuesday as he gave an honest and personal talk to the 2017 London Intake at Sacker's Law Firm.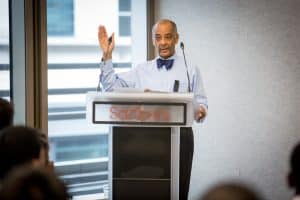 Recounting his journey from humble beginnings in Nottingham where he was raised by his single mother, to where he is now, a successful and well-known business figurehead for the City of London, Sir Kenneth was frank about the importance of having high aspirations.
The young people were amazed to see images of the very first computer programme and to hear about the rapid changes in technology that Sir Kenneth has witnessed since starting out in his career, not to mention some of the challenges he faced as a young man. Being new to the world of business, it was reassuring for the audience to hear that Sir Kenneth did not always have it easy but that his obstacles only served to teach him new skills that allowed him to progress quickly in his career.
Sir Kenneth was adamant in making one thing clear – be prepared for the future, always follow your heart, and most importantly aim high! As he said himself, there was no way he could have known as a young boy with an outdoor toilet and a bath tub hanging on the back of the house, that one day he'd be accompanying the Queen on royal visits.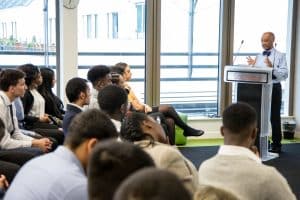 Cheyann, student from the CONEL cohort of North London said, "It was very encouraging! It reminded me that there are no limits to success."
Bilshan, another student who is currently doing his Level 3 apprenticeship at Accounting Firm, BKL said, "Sir Kenneth was very encouraging, and he had some truly great life experiences."
David Pinchin, founder of LTSB, said, "We are extremely honoured that Sir Kenneth took time from his busy schedule to speak to the young people. I myself was inspired by the brilliant talk, and his words resonated with many of those in the audience. I'm certain his advice will help them stay focused on their journeys to success."
Guest speaker events such as this are vital in LTSB's work, giving the young people a chance to hear real-world life experiences from the position of someone who has been there. Speakers such as Sir Kenneth are able to impart practical advice in an aspirational way, crucially offering tips on how to achieve success.
If you are an employer seeking an apprentice accountant, or know somebody who is, please contact us and we'll be happy to help make it happen.