Tottenham MP David Lammy returned to LTSB to give his five keys to success on 23rd January.
Speaking to some of our 2016 and 2017 London cohorts at The College of Haringey, Enfield and North East London in Tottenham, he presented his five critical factors: Education, Employment, Aspiration, Community and Parenting.
In a wide-ranging presentation and Q&A, Lammy started with Education – which, he argued, is where the inequality gap begins, and means we should put successes in context.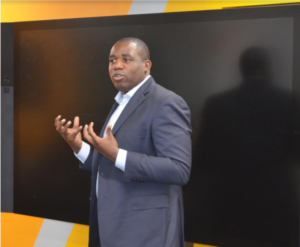 "If you are a straight-A student from Gladesmore Community School, on all of the academic evidence, you will be brighter than a straight-A student from Eton because the student from Gladesmore has probably had to overcome a lot more to become a straight A student."
"Employment is really, really important. Do as much work experience as possible because it helps you work out what you really want to do, it usually brings in income and it creates a network – who you know and what you know. It says to future employers, 'This is someone I might want to employ.'"
Lammy's messages chimed with an audience that were looking to say exactly that to major employers through their involvement in LTSB's proven social mobility programme.
Pete Ward, Deputy CEO and Operations Director at LTSB, said to the students: "A lot of the points David made are exactly the points we make on your behalf when speaking to employers.
"The context of your background demands recognition. The quality you bring is from your background, the quality of resilience. There are things you can bring from where you came from, and take to a new environment, which is a huge value to employers. That's the argument LTSB makes."
Our programme solves a huge headache for employers, as diverse talent is already sourced and trained before they start work.
To become an employer, please contact employment director Debs Barlow: debs.barlow@leadershipthroughsport.org. To apply for the scheme please email info@leadershipthroughsport.org.