BIRMINGHAM YARDLEY MP Jess Phillips has spoken at an event for young people targeting careers in major firms, hosted at PWC's office in Snow Hill.
Speaking to students from a life-changing social mobility charity, Leadership Through Sport & Business (LTSB), Phillips spoke about her career, inequality, and the importance of youth political engagement.
"If I can recommend anything to young people, it's that you've got to vote! Right now, by law, you can be paid less just because you're under 25 – and that only happens because young people don't vote."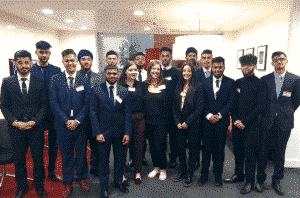 LTSB works with bright young people from disadvantaged backgrounds to prepare and support them in accountancy apprenticeships. The prospective accountants asked questions which showed their concern at a system that often leaves people like them behind – chiefly, what can be done about inequality of opportunity for young people in the city?
For Phillips, it's about recognising the opportunities to intervene, especially in very early life.
"The first 1001 days of a child's life is crucial in determining the rest of their lives, and programmes like SureStart can make all the difference. But Birmingham is the youngest city in Europe, with around 36,000 young people in my constituency alone, and me and my team of four can't work with all of them! But I can talk to businesses and initiatives – such as HS2 – and ensure that the jobs and apprenticeships go to local youth."
This fits in well with LTSB's mission. Recognising that talent from disadvantaged backgrounds needs additional preparation and support, the charity works with 16-21 year olds to ensure circumstances are no barrier to ability. In Birmingham, LTSB works with Aston Villa Foundation to develop young people personally and professionally, better preparing them for the business world – and the support of blue-chip companies such as PWC is a vital component.
Pete Ward, Deputy CEO and Operations Director at LTSB, said: "We're grateful to PWC for hosting, and delighted that Jess could spare the time to meet the best of Birmingham as they make a case not only for themselves, but for other young people like them.
"There's a huge amount of hidden talent in this city, and employers should be engaging with them, because the business case is as compelling as the moral case. More diverse businesses – in terms of gender, ethnicity, class – are more innovative and more profitable.
"And to make it an even more compelling argument, LTSB has found them and they're ready to go! So if you're an employer committed to social mobility, please get in touch."
"It was a pleasure to meet the group today," said Phillips. "I think LTSB are doing important work in supporting and preparing these bright young people for their futures, and I'll be spreading the word about this!"
LTSB has been running for over 6 years, working with over 60 employers, such as Santander, EY, Deloitte, Barclays, all of whom highly recommend taking on LTSB students as apprentices.
The programme solves a huge headache for employers, as diverse talent is already sourced and trained before their ready to start work.
To become an employer, please contact employment director Debs Barlow: debs.barlow@leadershipthroughsport.org. To apply for the scheme please email info@leadershipthroughsport.org, or find more details at ltsb.charity